Warior Records Checkout

Close Cart
Louis Prima, Jr.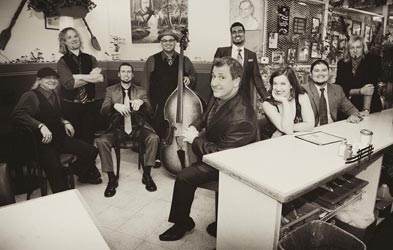 Tour-Dates
Music
Bundles
Singles
Accessories
Look What People Are Saying
About Louis Prima, Jr.
Louis Prima Jr. and the Witnesses are bringing Prima music into the 21st century. Not content to sit on the legacy they so passionately protect, LPJ and the band are taking a page from his father's playbook, by wailing Prima Swing for the new millenium.
Building off of the success of their critically acclaimed debut CD, Return of the Wildest!, the band has injected many years of diverse musical tastes into their latest offering, BLOW -- a collection of original music (save for a couple of surprises) as eclectic and unique as each member of this powerhouse band. BLOW has been co-produced by Warrior Records' president, Jim Ervin, and Louis Prima Jr. From the first thunderous stomps of the title track, it is evident that this ain't your daddy's swing music, but a raucous roller coaster ride of tail-shakin', foot-stampin', horn-driven smiles.
If you've seen them in concert, you know a bit about what to expect from the musical minds of the Witnesses. As energetic and over-the-top as the band's live shows, BLOW continues the ever-changing musical journey that Prima Sr. began in the '30s. "With the band's collective talents and diverse musical tastes, we wind up with a sound unique to this band, while staying true to the boisterous Prima style," says Louis. "We didn't set out to simply write music we thought the fans wanted to hear. We wanted to challenge ourselves musically and also challenge the listener. You can't fool the fans by trying to force the word 'daddy-o' into every song. If music does not come honestly from your soul, it will ultimately be short lived."
It's been 50 years since legendary Prima music shook the walls of Capitol Studios. Recorded there in Studio B, where Prima Sr. recorded his hits of the '50s and '60s, and released on Warrior Records via Universal Music Distribution, the seriousness of this new Prima Jr. music is masked only by the obvious fun that was had while making it.
A new legend is being born and it will BLOW you away!
Members/Instruments:
Louis Prima Jr., Vocals/Trumpet
A.D. Adams, Drums
Ryan McKay, Guitar
Steve Pandis, Bass
Gregg Fox, Keys
Marco Palos, Saxophone
Ted Schumacher, Trumpet
Phil Clevinger, Trombone
Leslie Spencer, BG Vocals
For more information visit:
Contact
If you have any questions, you may contact: info (at) warriorrecords dot com
or by mail to:
Warrior Records
7095 Hollywood Blvd., #826
Hollywood, CA 90028 USA
* * *
Return To Warrior Records Catalog