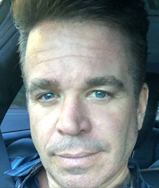 Jim Ervin
7095 Hollywood Blvd., #826
Hollywood, CA 90028 USA
(800) 579-9157 (extension 707) Phone
(323) 924-1095 Fax
L.A. Entertainment, Inc. is headed by Jim Ervin, music supervisor and composer, whose celebrated works have spanned four genres of the entertainment industry including, motion pictures, television, records, and commercials.
He founded L.A. Entertainment, Inc. in 1998 after seven years of working as a freelance producer and composer for the majors. Jim began his career as an arranger and orchestrator working with companies such as Curb, Capitol, RCA, and Atlantic, and quickly moved toward producing and composing.
He went on to score works for television projects through Paramount, NBC, ABC, Showtime, All American Communications, and Merv Griffin Entertainment, Inc. These associations led to motion picture involvement both as a composer, music supervisor, and music consultant for Sony Pictures, New Line, Columbia Pictures, Rysher Entertainment, Fox, Trimark, Turner/Warner, HBO, and Showtime, as well as commercial projects for agencies such as Suissa Miller, DDB Needham, J. Walter Thompson, Grey Advertising, among others.
Jim currently runs a music supervision company, marketing & promotions company (clientele including Interscope, Columbia, and Capitol), publishing companies, and the Warrior Records label all based in Hollywood, California.