Warior Records Checkout

Close Cart
Bobby Lee Trammell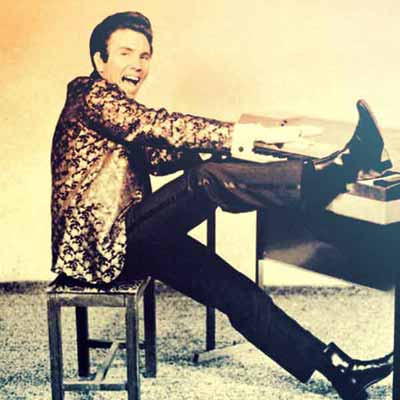 Featured Item
Open Up Your Heart

The original Warrior recording from 1959! Press Other Stores to visit another retailer to buy or listen.

Woe Is Me

The original Warrior recording from 1959! Press Other Stores to visit another retailer to buy or listen.
About Bobby Lee Trammell
If Bobby Lee Trammell never became as well-known as Jerry Lee Lewis or Little Richard, it wasn't for a lack of trying. In a time when Elvis was tamed and Jerry Lee was on the outs, Trammell kept shamelessly gyrating and performing loud, raw, rock & roll, while staying away from ballads.
Born January 31st, 1934, Bobby was one of four children of Wiley and Mae Trammell who owned a cotton farm near Jonesboro, Arkansas. He came by his musical abilities naturally – his father had played the fiddle professionally and his mother was the organist at the local church. He was drawn not only to their music, but also to country music while listening to the Grand Ole Opry on the radio religiously. He also had an interest in black gospel music and occasionally sneaked out to the local black Pentecostal church to watch and listen to their style of music and dancing.
Trammell played country music in high school and aspired to a singing career. But, that remained a far-off dream until one day when Johnny Cash and Carl Perkins performed locally. Bobby was permitted by Perkins to sing a song with the band who after seeing him perform advised Trammell to pay a call on Sam Phillips at Sun Records.
Bobby travelled to Memphis with a demo tape of songs he had written, but Sam, being a busy man, didn't have time at that moment to listen. He told Trammell to keep rehearing and come back in two to three weeks. But, being an impatient kid, Bobby didn't wait (a decision he regretted throughout his career), as he admitted in an interview with Ian Wallis, citing his own immaturity. He instead headed west and took a job at the Ford Assembly Motor Plant in Long Beach, California, and was still trying to get signed when he attended a carnival where Bobby Bare was appearing. He managed to convince Bare to let him on-start to sing a couple of numbers, where he showed off a gyrating style that was in the same league with the early performances of Elvis Presley.
Trammell was seen by Lefty Frizzell who invited him to try out for a performing venue called the Jubilee Ballroom in Baldwin Park, where he won the opening slot on a bill that included Frizzell, Freddie Hard, and Johnny Cash. Bobby earned a regular spot at the venue and soon built up a following among the teenage listeners, earning $75 a week. One of the people who saw him there was Malibu-based manager Fabor Robinson, owner of the Fabor, Abbott, and Radio labels, who offered Trammell the chance at a recording career.
Within two months, in November of 1957, he recorded the single "Shirley Lee" / "I Sure Do Love You Baby," both of which were originals. They were cut at Robinson's studio in Hollywood, with Bobby on rhythm guitar, backed by James Burton/lead guitar and James Kirkland/bass who were both in Bob Luman's band. The record, on Robinson's own Fabor label, kicked off successfully in Baltimore and did well enough to attract the attention of a nationally distributed company, ABC Paramount, which leased the master from Robinson.
Without ever making a major impact on the charts, "Shirley Lee," sold almost a quarter of a million copies by some reports, and also was covered by another new rock & roller named Ricky Nelson on his second album. Trammell was also invited by Ricky's father to audition for The Adventures of Ozzie and Harriet, but was rejected for being too wild for the family-friendly show. Then, probably due to his youth and naivety, Bobby blew off Nelson Sr.'s suggestion that they would seriously look at recording any new songs that he wrote, thus letting tens and perhaps hundreds of thousands of dollars in potential royalties slip out of his reach, like were earned by songwriter's Johnny and Dorsey Burnett from their songs that were recorded by Ricky.
Trammell also very nearly lost his contract over the aborted first recording session for his second single – another original – entitled "You Mostest Girl" / "Uh Oh." Robinson had initially booked an orchestra and vocal choir, but when Bobby proved unwilling to sing with that kind of backup in a decidedly non-rock & roll vein, they nearly called it quits. Luckily, Robinson recognized his error and soon let Trammell cut the song his way, with a five-piece backing. Unfortunately, neither this song nor a third single, "My Susie J, My Susie Jane" / "Should I Make Amends" managed to chart.
Following Robinson's retirement in 1959, Trammel's contract was sold to Warrior Records, in Hollywood who recorded and released "Open Up Your Heart Again" / "Woe Is Me." By then, however, Bobby had pretty much run his course on the west coast circuit, mostly due to the intensity of his performances and immaturity. Whereas Elvis Presley had always been shocked and even a bit fearful of the audience reactions to his own hip gyrations, Trammell devoured the screams of the crowds from his antics, tearing off his clothes, jumping on top of the piano, and generally inciting fans, all at a time when promoters and authorities were trying to quiet rock & roll down. Bobby would intentionally incite his audience to the point where riots would break out with consequent damage to auditoriums, problems with club owners, and promoters not wanted to continue working with him. All of that, plus a practical joke and protest that went awry – leaving Trammell hanging from a collapsing broadcast tower to be rescued by police – left him practically unemployable in California.
Bobby returned to Arkansas where he went on to record for a series of small labels, a highlight of which included "Hi Hi Silver" / "Been A Walking." But, he managed to burn out his reputation there as well, engaging in a rivalry with Jerry Lee Lewis that resulted in Bobby vandalizing the piano that Lewis played. By 1960, no clubs would book him and no DJs would play his records. At one point, he ended up creating recordings himself and selling the copies out of the back of his car. According to his interview with Wallis, he also turned down efforts by major labels like Warner Bros., Columbia, and Dot (the home of Pat Boone) to license his songs.
When the British invasion hit, Trammell grew his hair long and continued to run against the grain – especially in Nashville – cutting loud, bold rock & roll, mostly for the Sims label, even recording sides with a soul flavor. In the 70s, Bobby scored two minor country hits on the Souncot label, a remake of "You Mostest Girl" for Capitol in '73, and "It's All Your Fault" for Sun International in '77.
In the 80s, Trammell tried to get in on the European rock & roll revival, which was in full swing and giving artists, such as the surviving members of Bill Haley's Comets, their best paydays in decades. Unfortunately, it was a failed effort. Bobby was bought to Europe to perform at the 1984 Rockhouse Festival in Eindhoven, Holland. Though he was clearly in poor physical shape, it was a wild and frantic show which came to a sudden end when Trammell tried to jump on the piano. He landed awkwardly on top of it, wobbled, lost his balance, and fell breaking his wrist in the process.
In the 1990s, Trammell shifted gears into politics for the Democratic Party and was elected to the Arkansas House of Representatives in 1997 where he served until 2002. After that, Trammell mostly faded from the public eye, passing away on February 20th, 2008, in Jonesboro.
Contact
If you have any questions, you may contact: info (at) warriorrecords dot com
or by mail to:
Warrior Records
7095 Hollywood Blvd., #826
Hollywood, CA 90028 USA
Return To Warrior Records Catalog